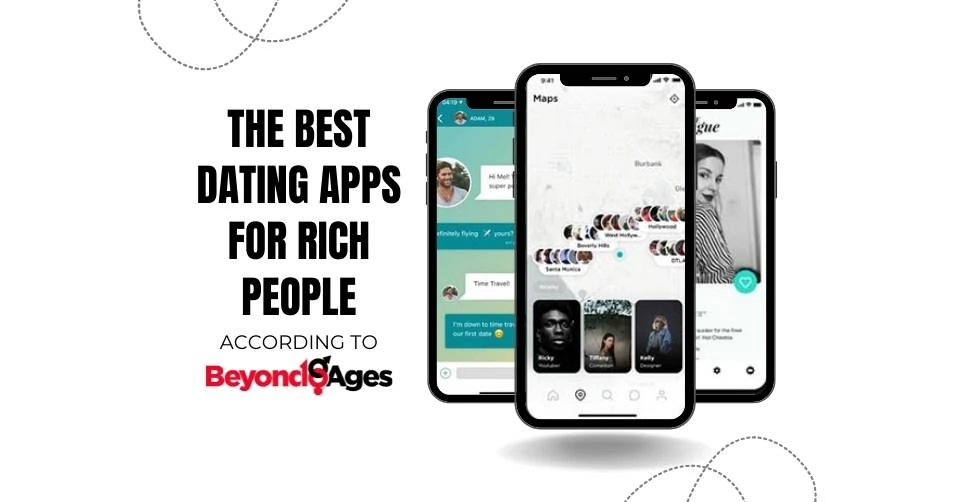 Do you consider yourself affluent, successful, and yearn for a life of opulence? If so, you're likely aware of the unique challenges that come with modern dating for wealthy individuals. Finding someone who shares your level of wealth can be a daunting task, especially when it's hard to discern genuine affluence from pretense. That's why dating apps tailored for the wealthy are a game changer.
The Premier Dating Apps for Wealthy Individuals Today: Raya and eHarmony
After extensive testing, we've identified two apps that stand out in helping you find a partner with a substantial income:
Other Notable Dating Sites for Wealthy Individuals
In addition to the aforementioned apps, here are three other options worth considering:
Luxy
For discerning singles who prioritize quality over quantity, Luxy is the ideal app. Billed as the "#1 millionaire's matchmaking and dating club," Luxy carefully screens users based on their income and beauty standards. The approval process, known as "Vouching," involves submitting a selfie, income verification, and a copy of your driver's license. Once approved, you gain access to features like FaceMe, a video chat feature that facilitates face-to-face conversations—a time-saving option if your match accepts. While Luxy didn't make our top two due to its user concentration in major cities, it's still worth exploring.
The League
If you're a career-oriented individual who values intelligence and ambition over a hefty bank balance, The League is perfect for you. This exclusive app caters to successful professionals in fields such as technology, finance, and consulting. With a manual screening process that maintains a 20-30% acceptance rate, The League is designed for power couples seeking meaningful connections.
Tinder Select
Tinder Select is an excellent platform for finding serious relationships and casual hookups without the complications of regular Tinder. Joining Tinder Select entails being invited by a fellow user or handpicked by Tinder itself. As a wealthy individual, subscribing to the paid version of Tinder is recommended to ensure privacy and the ability to choose your perfect match. While scammers exist, exercising caution will lead you to your ideal partner swiftly.
Key Considerations for Choosing a Suitable Dating App
When selecting a dating app for wealthy individuals, carefully consider the following factors to ensure the best possible outcome:
Consideration #1 – User Base
Strike a balance between exclusivity and variety. Choose an app that allows you to meet individuals beyond your existing social circle while still attracting a diverse range of users.
Consideration #2 – Privacy
Maintain your privacy by avoiding apps that may expose your personal life to those you know. This is especially crucial if you're going through a separation or divorce and need to maintain a pristine public image due to business dealings.
Consideration #3 – Relationship Type
Different dating apps cater to different relationship preferences. Whether you're seeking a casual encounter or a committed relationship, choose an app that aligns with your desired relationship type.
Consideration #4 – Free vs. Paid Apps
Consider the value of paid apps, which typically offer better features and filter out less serious users. While free apps can yield results, investing in a premium subscription significantly improves your chances of finding a compatible match.
Consideration #5 – Approval Process
Most high-end dating apps implement stringent approval processes. Evaluate whether you're comfortable with the criteria required for approval and remember that rejection should not be taken personally.
5 Key Tips for Success on Rich People Dating Apps
Now that you're equipped with the best apps and considerations, let's explore tips to maximize your chances of success:
Tip #1 – Cast a Wide Net
Avoid fixating on the first match that comes your way. Explore multiple options, as some matches may lose interest or fail to meet your dating requirements. Keep an open mind and narrow down your choices based on compatibility.
Tip #2 – Think Creatively
Think beyond the app itself. Use it as a reconnaissance tool to discover potential matches' interests and favorite locations. This allows you to increase the likelihood of serendipitous encounters and plan unique dates tailored to their preferences.
Tip #3 – Invest in a Membership
Paid memberships offer a competitive advantage on dating apps, providing better features, improved search algorithms, and a higher caliber of potential matches. For wealthy individuals, investing in a premium membership is worthwhile, albeit slightly more expensive than other dating apps.
Tip #4 – Complete Your Profile
A well-rounded profile generates more interest. Ensure your profile is complete, including the required number of photos and survey questions. Incomplete profiles are often viewed as less engaging and may hinder your chances of success.
Tip #5 – Be Engaged and Active
Frequent app engagement is key to success. Enable push notifications and respond promptly to interested individuals. Boosting your ranking within the app's algorithm requires active engagement, increasing your chances of meeting potential matches.
Frequently Asked Questions About Wealthy Dating Apps
Curious to learn more? Here are answers to common questions about dating apps for wealthy individuals:
What are wealthy dating sites?
Wealthy dating sites are smartphone- and desktop-based applications that enable affluent individuals to connect with others who share their financial status. These apps provide a safe environment for wealthy individuals, minimizing interactions with scammers or those who pretend to be affluent.
Are wealthy dating sites legitimate?
The success of dating apps varies, and there are no guarantees. Apps rise and fall in popularity based on factors such as user base and satisfaction. It's essential to find the app that suits your needs and preferences.
Are wealthy dating sites safe?
As with any online platform, there are risks associated with sharing personal information. Popular dating apps typically prioritize security and privacy, while newer apps may have less robust security measures. The onus is on you to exercise caution and vet potential matches thoroughly before meeting in person.
What are alternatives to wealthy dating sites?
While wealthy dating sites cater to specific needs, it's possible to find a suitable partner on any dating app. BeyondAges has compiled a comprehensive list of dating apps that guarantee success and a great user experience. Expand your horizons and explore the possibilities!
How do wealthy dating sites work?
Most dating apps allow users to swipe or like profiles, employing algorithms to match compatible individuals based on preferences and criteria. Once a match is made, text-based conversations ensue, eventually leading to in-person dates.
Join the elite world of wealthy dating apps and discover the love and companionship you deserve! To start your journey, visit Six Minute Dates today.