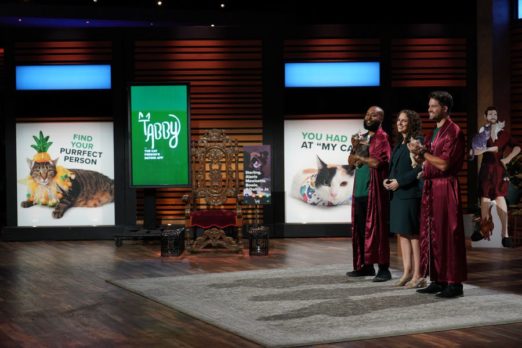 Are you a cat lover struggling to find a partner who appreciates your feline friends? Look no further! Nathan "The Cat Lady" Kehn, Sterling "TrapKing" Davis, and Leigh Issacson have brought their innovative dating app, Tabby, to the Shark Tank in Episode 1303. With Tabby, they aim to connect cat enthusiasts and create purr-fect matches. Let's dive into the fascinating world of Tabby and see how it's winning over hearts, one meow at a time.
Making Cat Lovers' Dreams Come True
Tabby was born out of the success of Dig, a popular dating app for dog lovers founded by Leigh Issacson. Inspired by her own failed relationship with a non-"dog person," Leigh recognized the need to weed out deal-breaking information from the start. Just like Dig, Tabby focuses on bringing like-minded individuals together. The founders enlisted the expertise of Nathan Kehn and Sterling Davis to lend their "cat cred" to the app, as both have a strong online presence and are known for their feline-related content.
Love in the Time of Cats and Covid-19
During the challenging year that was 2020, dating apps experienced a surge in popularity, especially niche platforms. The Covid-19 pandemic led to a rise in pet adoptions, making Tabby perfectly timed, as people looked for companionship not only in human partners but also in their furry friends. Tabby quickly gained traction and now boasts approximately 1000 new members each month. With a balanced gender ratio of 45% female and 55% male, the app offers a level playing field for cat lovers of all genders to connect.
Unleashing the Power of Tabby
Tabby is available for both Apple and Android devices, ensuring that cat lovers can find their perfect match, regardless of their preferred operating system. While the basic version of the app is free, users can upgrade to the VIP membership for $19.99 per month or $49.98 for six months, allowing them to send unlimited messages and connect with potential partners on a deeper level.
Swimming with the Sharks
When Nathan, Sterling, and Leigh entered the Shark Tank, they sought a $300,000 investment for a 20% stake in their business. They impressed the Sharks with their comprehensive app, showcasing its unique features such as profiles, a dedicated cat section, and a community space. The trio explained that Tabby was an offshoot of Dig, which was in talks for acquisition by a renowned dog food company. They shared their backgrounds, with Sterling highlighting the lack of diversity among cat rescuers, emphasizing his unique perspective as the "only black guy" in the field.
The Paws-itive Outcome
While Mark saw the challenges of growing an app and decided to pass, Robert appreciated the idea of connecting people but felt it wasn't for him. Nirav acknowledged the difficulty of breaking through the noise in the competitive dating app market and also opted out. However, Kevin recognized the potential, leveraging his extensive database of cat owners from BasePaws. He offered $300,000 for a 30% stake. After some negotiation, Leigh and her team agreed to a 25% stake, and Kevin proudly declared, "I'm king of the litter!"
A Purr-spective Update
As of August 2022, the deal with Kevin did not reach its conclusion. Despite facing some challenges with negative reviews in the Apple app store, Tabby had garnered over 50,000 downloads. Fast forward to April 2023, and the app is no longer available in the app store, while the website remains dark. However, one can't help but wonder what the future holds for this innovative dating app. Stay tuned for any updates that may confirm Tabby's success story.
In the ever-evolving world of online dating, Tabby stands out as a unique platform that brings together people who share a love for cats. Whether you're seeking a potential partner or simply want to connect with fellow cat enthusiasts, Tabby offers a meow-tastic opportunity to find companionship. So, why wait? Embrace the power of Tabby and embark on a journey full of whiskered wonders!