Mass incarceration permeates society, but we often overlook how it affects the families and personal relationships of those involved. Particularly, we neglect to acknowledge the immense burden carried by women in these families. They are left to maintain the household, visit their incarcerated loved ones, explain their absence to their children, and endure the absence of physical intimacy in their relationships. But what happens when their loved one returns home? Is the relationship that developed behind bars strong enough to survive in the outside world?
In her memoir, "The Love Prison Made and Unmade," criminal justice reform advocate Ebony Roberts shares her experiences of falling in love with Shaka Senghor, an advocate himself and the author of "Writing My Wrongs: Life, Death, and Redemption in an American Prison." Roberts opens up about their relationship, shedding light on the challenges faced by couples transitioning from prison to freedom.
A Quest for Redemption and Safety
Roberts, known to me for many years, recently discussed her book and provided insights into her journey. She recounts her childhood and how her father influenced her choice in partners—gravitating towards "bad boys" as a means of attempting to save them, filling the void left by her father. However, it was only with Shaka that she truly confronted her need to be saved and found emotional safety. Despite physical separation, she discovered a sense of security she had never experienced before.
The Struggles of Sharing a Complicated Story
Roberts faced reservations about sharing her story since Shaka was a public figure. She expressed the initial disapproval he had towards her decision to write about their struggles, primarily the issue of infidelity. However, with time, he demonstrated personal growth and became supportive, enabling her to share their journey authentically. Roberts had spent years protecting Shaka's ego, prioritizing his smooth transition home. But in doing so, she neglected her own truth.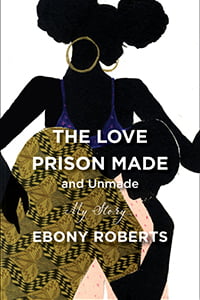 Roberts made a conscious choice to present an honest account of the realities faced by couples after prison. Many existing publications romanticize the love story but fail to address the difficulties that arise once the incarcerated partner returns home. She wanted to illuminate the imperfect nature of these relationships, providing a counter-narrative to the idealized fairy tale endings often perpetuated in society.
Celebrating Love Amidst Oppression
Throughout the book, Roberts interweaves socio-political issues surrounding the prison system. Drawing from her experience as a prison reform advocate, she highlights the challenges faced by families of the incarcerated. Celebration in such an oppressive environment becomes an act of resistance, symbolizing the enduring strength of relationships. Roberts emphasizes the cost endured by families to maintain connections in a system that actively undermines their efforts.
In her conversations with Shaka, Roberts discovered that he had never celebrated his birthday, not even as a child. This revelation deepened her understanding of the struggles faced by families, as she had also worked with organizations supporting prisoners. She realized the barriers families encountered, such as limited options for sending gifts or care packages. The system actively inhibits their ability to connect and demonstrate love.
The impact of incarceration on families is profound. The separation imposed by the system isolates individuals from their loved ones and communities. This isolation exacerbates issues such as depression and violence, perpetuating a vicious cycle. Families act as a lifeline, providing a vital connection to their incarcerated relatives' humanity amid a dehumanizing environment.
The Forgotten Cost of Incarceration
While Roberts previously engaged in prison abolition work, her focus has shifted towards supporting families. She recognizes the strides made in criminal justice reform but believes that not enough attention is given to the women—mothers, wives, girlfriends, and sisters—who bear the brunt of the prison industrial complex. These women face numerous challenges, from financial burdens to emotional tolls, as they support their incarcerated loved ones.
In her book, Roberts aims to shed light on the reality of life after prison and the impact on relationships. She wants readers to understand the capacity for compassion and deep love that can exist in these circumstances. By challenging the notion that incarcerated individuals are unworthy of love, she hopes to encourage society to view prisoners through a lens of humanity. Additionally, she emphasizes the importance of investing in the youth and refraining from prematurely discarding potential greatness based on past mistakes.
Looking back, Roberts acknowledges that therapy could have made a significant impact on her relationship with Shaka. Seeking professional help to navigate their challenges and address underlying issues may have altered the course of their journey. However, she remains steadfast in her belief that people need to witness the complexities of love after incarceration, demonstrating that even though their relationship didn't work out, immense growth and powerful lessons can emerge from these experiences.
In conclusion, "The Love Prison Made and Unmade" offers a unique perspective on the trials faced by couples transitioning from prison to freedom. Ebony Roberts provides a candid account of her own journey, highlighting the broader issues surrounding mass incarceration and the forgotten struggles of families. Through her memoir, she encourages readers to confront societal biases and reimagine the capacity for love and redemption in unexpected places.
Watch the following video to learn more about the challenges faced by couples after incarceration:
For more information on relationships after jail, visit [Six Minute Dates](https://sixminutedates.com).