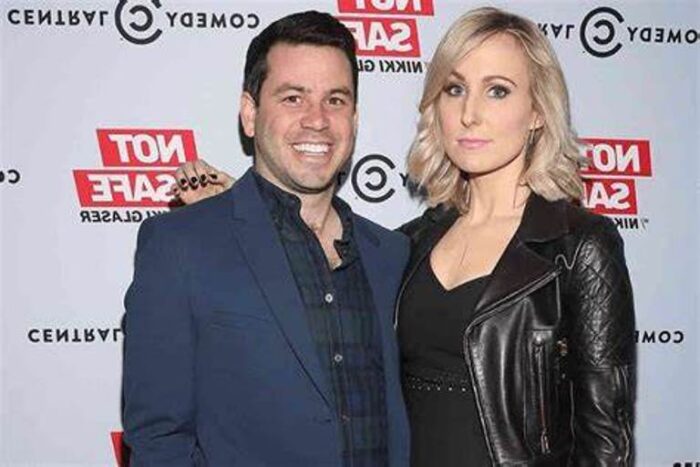 Nikki Glaser, the renowned actress, comedian, radio and TV host, and podcaster, has a love story that has captured the attention of fans worldwide. At the center of this story is Chris Convy, her on-and-off boyfriend, who seems to have become a permanent fixture in her life.
Their journey began in 2013 when Chris worked as the producer of the MTV talk show, "Nikki and Sara Live." It was there that their paths first crossed, and sparks flew between them. Despite the challenges that came their way, they embarked on a romantic journey that has spanned almost a decade.
The Enigmatic Chris Convy
Chris Convy is an American celebrity who has managed to keep his personal details under wraps. While his exact age remains a mystery, it is known that he hails from St. Louis, Missouri, and is a proud citizen of the United States. Beyond that, little else is known about his background, leaving fans curious and intrigued.
A Fateful Meeting
The connection between Chris Convy and Nikki Glaser blossomed during their time on the set of "Nikki and Sara Live." Nikki, instantly captivated by Chris's charisma and good looks, couldn't resist falling for him. The attraction was mutual, and their relationship quickly blossomed.
Love's Ups and Downs
Reports surfaced in 2016 that Chris and Nikki had called it quits after three years together. However, they reunited shortly after, putting to rest any doubts about the status of their relationship. Nikki even referred to Chris as her boyfriend during a Comedy Central segment, confirming that they were back together.
Chris, a private individual, has managed to maintain a low profile on social media, making it difficult to keep track of their ups and downs.
Behind the Scenes
While Nikki takes center stage in the entertainment industry, Chris Convy works behind the scenes as a producer and writer. His career began in 2007 when he worked as an assistant floor producer for the MTV Video Music Awards. Since then, he has worked on various television specials, showcasing his talent and dedication.
A Promising Future Together
As the COVID-19 pandemic hit, Nikki Glaser and Chris Convy found themselves reunited in their hometown of St. Louis. This reunion sparked rumors among fans that they were back together for good. As their show, "Welcome Home Nikki Glaser," unfolded, they explored their relationship's highs and lows, with Nikki demanding more commitment from Chris.
In a surprising turn of events during the season finale, Chris went down on one knee and asked Nikki to be his emergency contact. While it may not have been the grand gesture she was hoping for, Nikki accepted, signaling a new beginning for their relationship.
With this latest chapter in their love story, it seems that Nikki and Chris are headed towards a committed relationship. Nikki herself confirmed their status as an official couple during an appearance on E! Online's "Nightly Pop."
In the end, it's clear that the show not only entertained audiences but also brought Nikki and Chris closer together, proving that sometimes love stories do have a happy ending.
---
To learn more about Nikki Glaser and her journey with Chris Convy, visit Six Minute Dates.