Have you ever wondered if you can find someone on Tinder just by knowing their phone number? Well, the answer is a resounding yes! Contrary to Tinder's claims, it is indeed possible to search for individuals on Tinder using their phone numbers.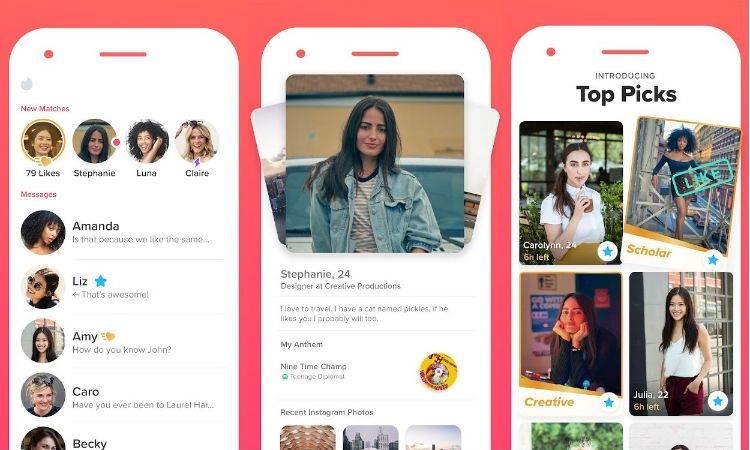 While Tinder states that you can only find someone if you're already matched with them, the truth is that anyone can be found if you have their phone number. So, if you're tired of swiping aimlessly, accidentally swiped left on a potential match, or simply didn't get a second date with someone you met on Tinder, this article will guide you on how to find them using their phone number. Additionally, we'll provide some privacy tips to protect your own phone number.
Can you really find someone on Tinder by phone number?
Absolutely! Although you cannot directly search for someone on Tinder using their phone number within the app, there are alternative methods that allow you to find them.
Here are three effective ways to locate someone on Tinder using their phone number:
Perform a search using a free People Search Service
Use a social media search engine like Social Catfish's Tinder Lookup search-bar
Utilize phone numbers to identify social media handles
According to DatingZest, these methods can also help you determine if someone has a profile on other dating sites, including Tinder.
How to locate someone on Tinder with their phone number
Method 1: Use a free People Search Service
If you accidentally deleted your conversation with a match on Tinder, don't worry! If you have their phone number, you can attempt to reconnect using a People Search Service.
People search services function as search engines that scour public records based on your search criteria. Two popular free services, Radaris and Spokeo, allow you to conduct online searches without the need for creating an account.
Spokeo goes beyond revealing personal and contact details, providing information on location history and court records. It offers a free trial membership that grants full access to phone search and instant name, email, and address searches.
Similar to Spokeo, Radaris also offers reverse lookup capabilities and functions. These services may offer free basic searches, but additional in-depth information may require a fee. As with any online information, it's essential to verify details from multiple sources for accuracy.
Please note that these services primarily work for Tinder matches based in the USA and US overseas territories.
Social Catfish, a People Search Service, focuses on reconnecting individuals and verifying online identities. However, what sets Social Catfish apart is its unique Tinder profile search bar.
By entering a person's name, email, phone number, Tinder username, address, or profile images, Social Catfish scours over 200 billion records to fetch a plethora of information on individuals matching your search criteria.
For more precision, users can filter search queries by country, state, city, and age range. Social Catfish is a paid service, but it does offer a free 5-day trial where users can choose between reverse search plans and image search plans.
Although this method does not directly assist in finding Tinder profiles, it can help you locate social media profiles associated with those Tinder accounts.
Since 2018, Tinder users have been able to sign in using their Facebook accounts. Additionally, Tinder allows users to display their Instagram photos on their profiles. You can search for users on Facebook by entering their phone numbers into the in-app search bar. For Instagram, you can do the same if you have saved your Tinder match's phone number in your contacts list.
It's also common for people to use the same handle for their Tinder, Facebook, and Instagram accounts. By identifying a person's social media handle through their phone number, you may be able to discover their corresponding Tinder profile.
Before celebrating the success of finding a Tinder profile through a phone number, it's crucial to consider the level of privacy Tinder offers and how to safeguard your personal identity.
Privacy concerns regarding Tinder phone numbers
It's important to acknowledge that anyone who possesses your phone number can potentially search for your Tinder profile using the aforementioned methods. Therefore, it's vital to exercise caution when sharing your phone number on Tinder.
Tinder does not expose your phone number, even if you sign up using it. However, your phone number can still be exposed if you share it with someone through a Tinder message or openly display it on your bio.
To facilitate easy conversations and hookups without exposing your actual phone number, you might consider obtaining a burner phone number from Phoner. This alternative protects your privacy while still allowing you to engage with other Tinder users.
Exercise caution before sharing your actual phone number with any Tinder match. If you're unsure about someone, use a temporary second phone number as a precautionary measure.
Bonus tip: Phoner offers a Reverse Lookup feature that allows you to find information about the owner of a phone number, including their social media profiles.
Safeguard your phone number while using Tinder
For a comprehensive guide on how individuals can find you on Tinder using vanity URLs, third-party apps, or online services, refer to Tinderoplus's walkthrough.
Yes, you can indeed find someone on Tinder using their phone number. However, this means that others can find you as well. If you decide to reconnect with missed dates, ensure your personal data remains safe and secure.