Are you ready for the ultimate showdown? In the realm of dating apps, eHarmony and Tinder couldn't be more different. It's like comparing Pepsi to Vodka – two distinct flavors for different tastes. So, let's delve into the fascinating world of eHarmony vs Tinder.
Unveiling the Purpose
The first thing to note is that eHarmony and Tinder cater to vastly different relationship goals. Tinder thrives on fast connections and location-based dating, perfect for those seeking casual encounters or spontaneous flings. On the other hand, eHarmony is designed to facilitate meaningful connections with a focus on long-term commitment and lasting relationships.
Yes, there are occasional love stories from Tinder, but the odds are slim. If you're after a genuine relationship, eHarmony is your go-to app. However, if casual dating or random hookups are your cup of tea, then Tinder or other casual dating alternatives may suit you better.
The Matchmaking Magic
Now, let's dive into the mechanics of these two dating giants. Tinder utilizes a swipe-based system, where you express interest in a multitude of singles within your set parameters. If the feeling is mutual, a match is made, and you can engage in chat. Moreover, Tinder relies on your precise location to determine potential matches.
On the flip side, eHarmony employs a sophisticated compatibility algorithm to curate the best possible matches for you. Unlike Tinder, there's no need for a mutual match to initiate a conversation. eHarmony also disregards physical location, instead focusing on your specified home location in your dating profile.
As expected, signing up for eHarmony requires more time and effort compared to the swift onboarding process of Tinder. While Tinder gets you up and running in around five minutes, eHarmony demands a more thorough 30-45 minute registration process.
The Price Tag
When it comes to pricing, eHarmony commands a higher initial membership cost compared to Tinder. However, with eHarmony, you gain access to all available features without any additional expenses. Tinder, on the other hand, tempts you with a range of a la carte add-ons that can quickly dent your wallet. That said, Tinder does offer some free functionality, a saving grace for those on a tight budget.
In terms of quality, both apps excel in their respective domains. The eHarmony vs Tinder debate boils down to your personal relationship goals.
The Judgement
While choosing a winner in this head-to-head battle might seem arbitrary, we're still inclined to declare a victor. Based on concerns regarding the addictive nature of swipe-style dating and its potential impact on our brains, eHarmony edges out Tinder. However, if you're not seeking a committed relationship or the possibility of one, eHarmony may not align with your dating preferences.
So, whether you're seeking a lasting romance or a casual rendezvous, eHarmony and Tinder stand at opposite ends of the spectrum. Choose wisely, and may your dating adventures be fruitful.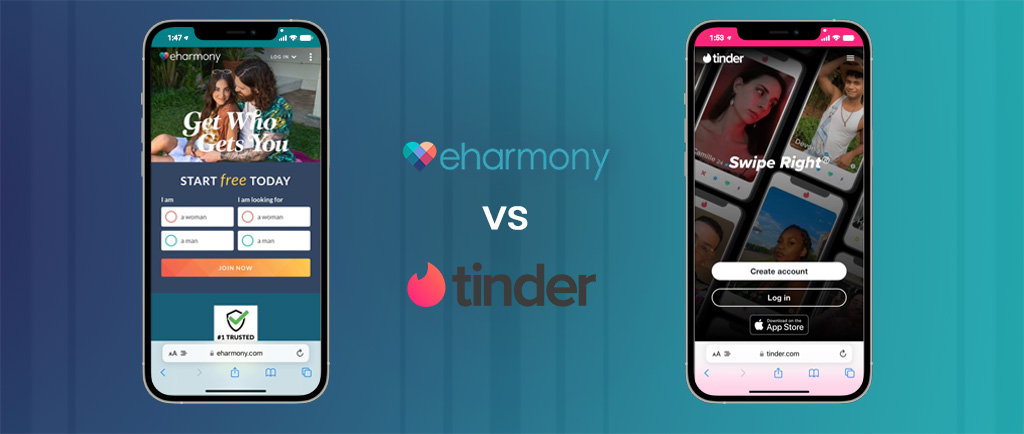 Image credit: healthyframework.com
---
Ready to find your perfect match? Check out Six Minute Dates to discover a whole new world of speed dating!