Are you looking for some exciting beach date ideas? Look no further! We have compiled a list of 30 fun and adventurous activities that will make your beach date unforgettable. Whether you're planning a romantic getaway or a fun day out with your loved one, these ideas are sure to keep you both entertained.
1. Have a Beach Bonfire
There's something magical about sitting by a bonfire on the beach. You can roast marshmallows, sing campfire songs, and get lost in the mesmerizing flames. Make sure to check if bonfires are allowed on your beach, find a safe spot away from others, and create your own cozy fire ring. It's the perfect recipe for a romantic evening.
2. Beach Soccer Game
If you and your partner enjoy some friendly competition, why not try a game of beach soccer? It's a great way to burn off some energy while having fun together. Just make sure to leave your shoes and shin guards behind, as sand soccer is all about embracing the challenges of the shifting sands and ocean breeze.
3. Go for a Picnic at the Beach
Enjoy the fresh air, the salty sea breeze, and a delicious meal with your significant other. Plan a beach picnic and bring along some scrumptious treats. Don't forget to pack a blanket, bug spray, and an umbrella for some shade. Whether it's a daytime picnic or a romantic sunset affair, it's bound to be a special moment between the two of you.
4. Explore a Beach Pier
Venture out and explore the wonders of a beach pier. Modern piers offer a plethora of activities, from arcade games and roller coasters to water parks and live events. Take your date on a thrilling adventure and create lasting memories together. There's always something exciting happening at the pier!
5. Visit Shops Near the Beach
Take a stroll around the shops near the beach and discover unique treasures and local flavors. Whether it's jewelry, art, or locally made pottery, there's bound to be something that catches your eye. Support local businesses and indulge in a bit of retail therapy with your loved one.
6. Try Surfing
Embrace the waves and try your hand at surfing. If you're new to the sport, don't worry! Many beaches offer lessons for beginners, and you can even start with a boogie board. Feel the thrill of riding the waves together and enjoy the beauty of nature. Just remember to dress appropriately and have fun!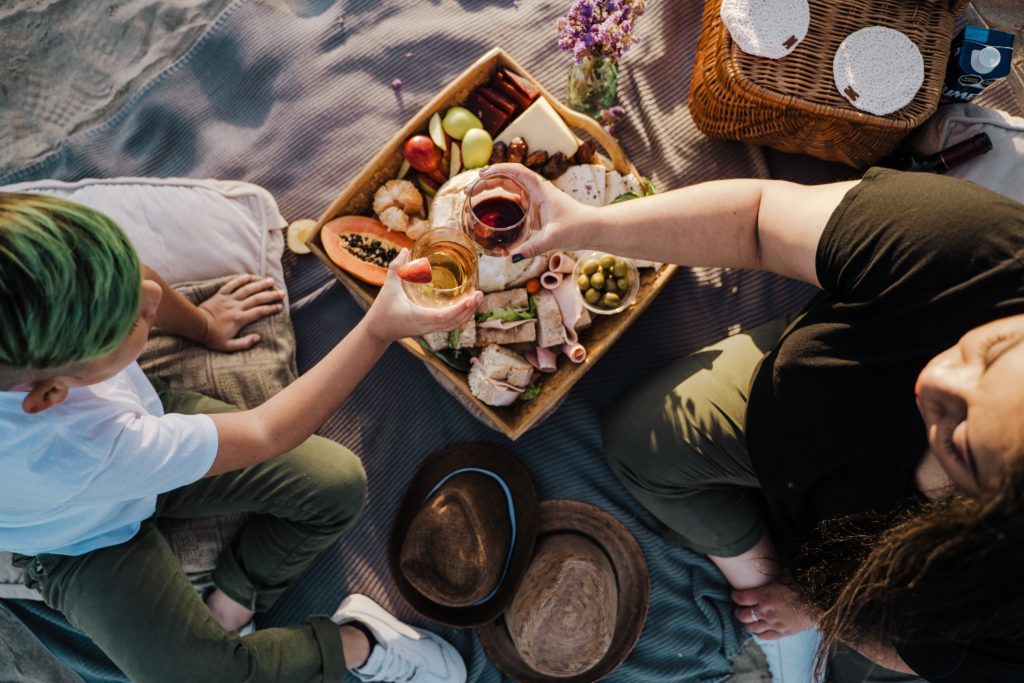 7. Build a Sandcastle
Tap into your inner child and build a sandcastle together. All you need is some wet sand, a bucket, and a shovel. Let your imagination run wild as you create your dream castle by the sea. It's a fun and creative activity that will bring out the kid in both of you.
8. Go Fishing
If you love the thrill of fishing, why not try your luck at the beach? Whether you prefer fishing from a pier or surf fishing at the water's edge, it's a relaxing and enjoyable activity to do with your partner. Check the local regulations and get your fishing gear ready for a day of peaceful bonding.
9. Spot Sea Animals like Dolphins
Take a moment to appreciate the wonders of the ocean by spotting sea animals like dolphins. Keep your eyes peeled for these magnificent creatures as they swim and play in the waves. The ocean is teeming with life, and you never know what you might encounter during your beach date.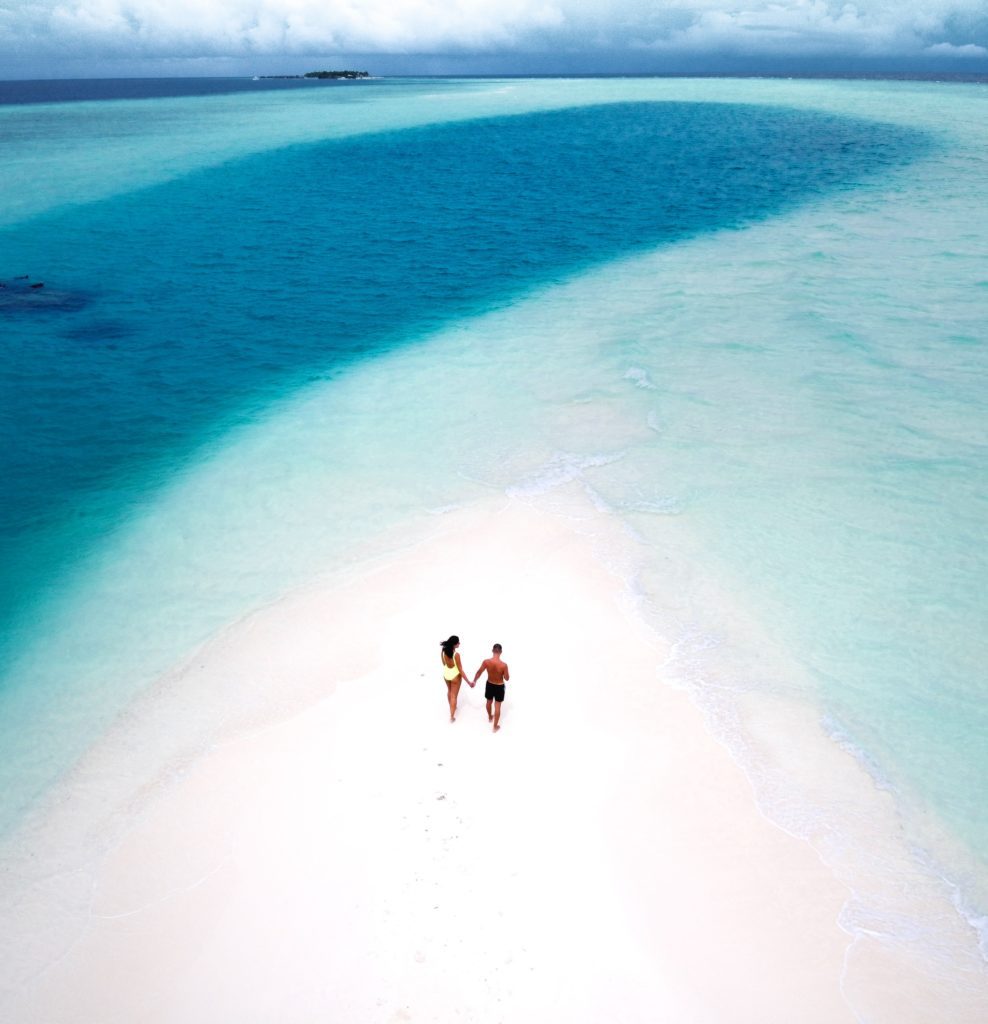 10. Go for a Boat Cruise
Embark on a new adventure with a boat cruise. Whether it's a romantic sunset cruise or an animal-watching excursion, there's a cruise to suit every mood. Enjoy activities like fishing, water skiing, or simply relaxing on deck. It's a fantastic way to explore the ocean and create lasting memories together.
11. Visit a Beachfront Bar or Restaurant
Indulge in a delightful dining experience with a beachfront view. Restaurants and bars by the beach offer a unique atmosphere that can't be replicated elsewhere. Immerse yourself in the sounds and sights of the ocean as you savor delicious food and drinks. It's an escapade unlike any other.
12. Beach Concert
Ditch the crowded arenas and enjoy a beach concert instead. Whether it's during the day or under the stars, a beach concert is a one-of-a-kind experience. Bring your own chairs or blankets and immerse yourself in the music while feeling the sand beneath your toes.
13. Go Shelling
Embark on a treasure hunt for seashells. It's a simple yet rewarding activity that has been enjoyed for thousands of years. Find the perfect shell to keep as a memento of your amazing date. You never know what fascinating shells you might uncover along the shoreline.
14. Go for a Jet Ski Ride
Experience the thrill of jet skiing as you speed across the ocean waves. Feel like a true adventurer as you navigate the waters together. Hold on tight and enjoy the exhilarating ride, whether standing or seated. It's an adrenaline-pumping activity that will make your beach date unforgettable.
15. Fly a Kite
Release your inner child and fly a kite on the beach. It's a fun and relaxing pastime that requires a bit of skill. With a gentle breeze and a colorful kite in hand, watch as it soars high in the sky. It's a simple yet enchanting experience that will put a smile on both your faces.
16. Explore Tide Pools
Discover the wonders of tide pools during low tide. These shallow pools are teeming with fascinating sea life, from colorful anemones to curious crabs. Check the tide charts and plan your visit accordingly. It's like having your own personal aquarium right at the beach.
17. Couples Yoga on the Beach
Deepen your connection with your partner through couples yoga on the beach. Strengthen your trust and communication as you move through various poses together. Feel the sand between your toes and the gentle ocean breeze as you find balance and harmony. It's a beautiful way to connect and create a sense of unity.
18. Go Stand Up Paddleboarding
Try your hand at stand-up paddleboarding, a unique blend of surfing, balance, and adventure. Whether you're a beginner or an experienced paddler, it's a fantastic way to enjoy the ocean and improve your focus. Glide across the water and take in the breathtaking views as you paddle side by side.
19. Kayaking
Explore the beauty of the coastline with a kayaking adventure. Whether you opt for separate kayaks or a tandem kayak, it's an opportunity to work together and enjoy the serenity of the ocean. Spot wildlife, discover hidden coves, and create cherished memories as you navigate the waters.
20. Snorkeling
Immerse yourself in the underwater world through snorkeling. Unlike scuba diving, snorkeling doesn't require extensive training or expensive equipment. Simply grab a mask and snorkel, and dive into the crystal-clear waters. Discover colorful fish and enchanting coral reefs as you explore the marine life together.
21. Go Hiking at a Spot with Beach Views
Combine your love for hiking and the beach by exploring coastal trails. Enjoy the fresh ocean air and breathtaking views as you hike along scenic paths near the beach. It's a great way to get some exercise, connect with nature, and spend quality time with your partner.
22. Have a Packed Lunch or BBQ at the Beach
Experience the nostalgia of a beach picnic or BBQ. Escape the confines of modern life and enjoy a meal on the sandy shores. Pack some sandwiches, fruits, and snacks, or even bring a portable BBQ grill for a beachside feast. Embrace the simplicity of dining in nature and savor the moment.
23. Watch a Sunrise or Sunset
Take a moment to witness the beauty of a sunrise or sunset. Let the colors of the sky wash over you as you appreciate the vastness of the universe. Resist the urge to capture the moment on your phone and instead create a lasting memory in your mind. It's a truly special experience to share with your loved one.
24. Go for a Walk Along the Beach
Enjoy a leisurely walk along the shoreline with your partner. Feel the sand between your toes, listen to the soothing sound of the waves, and let the ocean breeze caress your faces. It's a simple yet immersive experience that allows you to connect with nature and each other.
25. Go Beach Camping
If the beach allows camping, why not spend a night under the stars? Set up camp and enjoy the tranquil ambiance of the beach at night. Listen to the gentle lullaby of the waves as you drift off to sleep. Beach camping is a unique and unforgettable way to experience the beauty of nature with your loved one.
26. Wave Jump in the Ocean
Experience the exhilaration of wave jumping in the ocean. Lock arms with your partner and jump together as the waves crash around you. It's a thrilling activity that will bring laughter and joy. Just remember to establish a safe word and keep an eye on each other's well-being.
27. Have a Movie Night at the Beach
Transform your beach date into a cozy movie night. Set up a mini-theater on the sand with a laptop or bring some projection equipment for a larger audience. Choose a beach or ocean-themed film and immerse yourselves in the cinematic experience. Enjoy the movie while sitting on the warm sand or inside the comfort of your car facing the beachfront.
28. Play Beach Volleyball
Engage in a friendly game of beach volleyball. It's a fun and energetic activity that will bring out your competitive side. Whether you win or lose, the important thing is to communicate and maintain a good connection with your partner.
29. Visit a Beach Café
Indulge in the beachfront dining experience at a charming beach café. Sit back, relax, and enjoy a meal with a view. Observe the wildlife, listen to the crashing waves, and feel the gentle ocean breeze as you savor every bite. It's the perfect opportunity to unwind and appreciate the beauty of the surroundings.
30. Go for a Ride Along a Path Near the Beach
Explore the coastal area on a bike ride along a scenic path. Feel the wind in your hair and soak in the stunning views as you pedal by. It's a wonderful way to immerse yourself in the beach atmosphere and embrace the beauty of your surroundings.
---
Remember, a beach date is all about creating lasting memories and enjoying each other's company. Choose one of these exciting activities that resonates with you and your partner. Whether you're seeking adventure, relaxation, or a combination of both, these unique beach date ideas are sure to make your day extraordinary.
For more fun date ideas, check out Six Minute Dates.