Leaving cute notes for your man is one of the most romantic ways to express your love. Whether it's a post-it in his bag, a surprise in his lunchbox, or a hidden message in his laptop bag, these love notes will make him feel special and cherished. In the midst of our busy lives, it's easy to forget to plan surprises and show affection, but a simple note can keep the romance alive.
Surprise Him with Cute Notes
Planning a surprise doesn't have to be elaborate; sometimes, the smallest gestures have the biggest impact. Leaving post-it notes around the house is a great way to express your affection. It's personal, takes less than a minute, and adds a special touch to your relationship. You may be wondering what to write in these cute love notes. To help you out, we've compiled a list of 75 adorable notes that are sure to surprise him.
The Power of a Simple Note
Let me share a heartwarming story about Ivan (name changed), who experienced a simple yet unforgettable romantic gesture. When Ivan was in high school, he was madly in love with someone in his class. They were both dating at the time. One day, as Ivan was walking with his friends, he saw that special someone returning from school on their bike. To his surprise, they held out a note for him. Ivan's heart melted when he read the words: "Everything I do, I do it for you." This small gesture touched him deeply, and even after 30 years, he still considers it the most romantic moment he has ever experienced.
Cheesy but Effective
Sometimes, a little cheesiness can go a long way in making someone feel loved and appreciated. You can jot down lyrics from a favorite song, a few words that hold special meaning for both of you, or an intimate secret that belongs to just the two of you. The key is to find a playful and romantic way to express your feelings. Here are some ideas:
1. Life is 10x easier with you by my side
Stick this cute note on the refrigerator, where he'll see it first thing in the morning. It's a wonderful way to start his day and remind him of your love and support.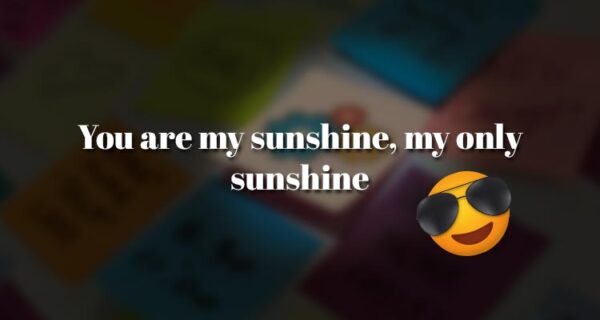 2. You are my sunshine, my only sunshine
This beautiful line from Johnny Cash's song will make him smile throughout the day. Leave this note on the window of your room, where the sunlight can enhance its romantic effect.
3. I'd trade the world for you
Show him that he is your top priority by sticking this note on his planner. It's a lovely message that will brighten his day and put a smile on his face.
4. I can't imagine starting my mornings without you
Surprise him with this cute note on a tray as you bring him a steaming mug of coffee. It's a sweet gesture that will make your mornings together even more special.
5. Roses are red, and the stars shine bright; do me a favor and hug me tight
Leave this poetic yet playful note in his lunchbox or text it to him during the day to brighten his workday. It's a corny but effective way to keep the spark alive.
6. I can't believe I get to come home to you
If your boyfriend leaves for work before you do, attach this note on the countertop before you head out. It will make his return home even more special and relieve the stress of the day.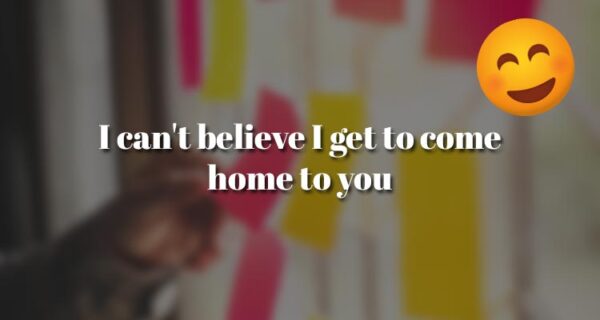 7. You make my world go round
Surprise him with this note when he is carrying a round-shaped dessert or meal. It's a funny and sweet way to show your appreciation for him and bring a smile to his face.
8. You're the whole package
Sometimes, the simplest messages make the biggest impact. This note will flatter him and make him feel special. Compliments are always appreciated, and he might even blush upon receiving this note.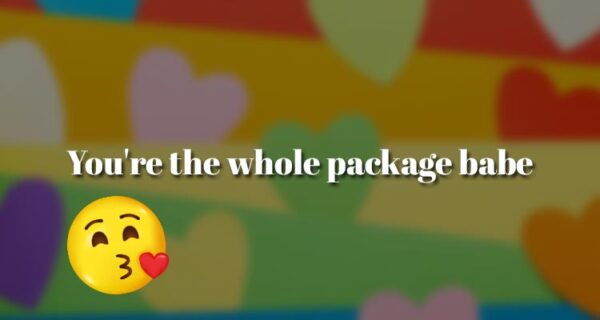 9. You leave me tongue-tied
Set a romantic vibe by leaving this note on the remote before watching a movie together. As he picks up the remote and sees the note, it will create a perfect moment for a sweet embrace.
10. How are you not tired? You've been running through my mind all day
Remind him that he's always on your mind by leaving this note on top of his clothes in his gym bag. It's a playful way to let him know how much you think of him.
Short and Deep Love Notes
If you want to convey deep feelings in a concise way, these short love notes will do the trick. They pack a punch and express your emotions in a heartfelt manner. Here are some examples:
31. I can never stop loving you
Surprise him with this note in his lunchbox. It's a simple yet powerful way to remind him of your everlasting love.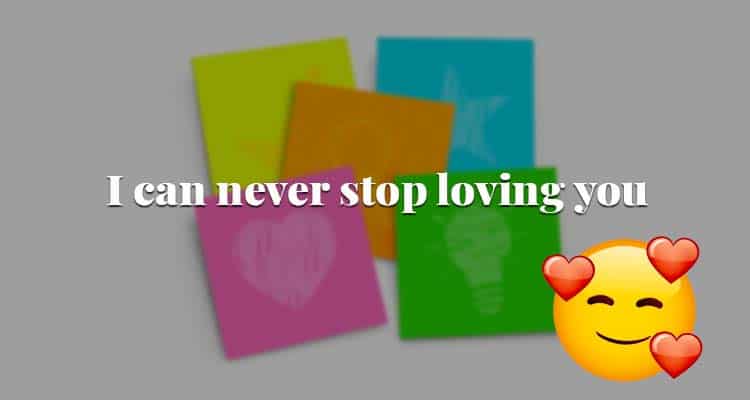 32. Have a day as bright as your smile
Move away from the usual "Have a good day" and surprise him with this unique expression of your love. Stick this note on his phone case for an extra touch of sweetness.
33. I think you're the biggest blessing of my life
Let him know how much he means to you by writing this note and leaving it in his bag before he leaves. It's a beautiful way to express your gratitude and love.
34. You're the human version of the heart emoji
Add a modern twist to your love note by including some text message lingo. This sweet and quirky sentence will make him smile and feel cherished.
35. You are my last thought at night and first thought when I wake up
Let him know that he's always on your mind with this romantic note. Keep it under his pillow for a heartwarming surprise.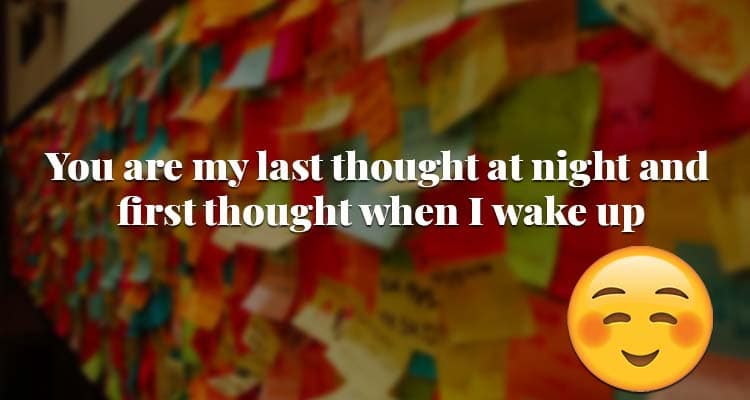 36. You drive me crazy with your smile
Capture the essence of your love by letting him know how he still makes your heart race after years together. Leave this note on his work desk at home.
37. You've shown me what love is
If he's the reason you believe in love, this note will let him know how much he has impacted your life. Toss it in his backpack for a heartwarming surprise.
38. You are the cheese to my macaroni
Express your perfect connection with this cheesy and adorable note. Stick it to the cheese packet in the fridge and enjoy some quality time cooking together.
39. That smile of yours takes away all my sadness
Remind him of the power of his smile by leaving this note on his water bottle. It's a simple yet impactful way to make him feel appreciated and loved.
40. You are to me what Earth is to the Moon
Let him know he's the center of your universe with this poetic note. Place it where you can both see the moon, creating a special moment of connection.
Flirty Lunch Notes to Spice Things Up
If you want to add a touch of spice to your relationship, these flirty notes will do the trick. They're perfect for keeping the fire alive and creating excitement between you and your partner. Here are some ideas:
51. I was thinking of love notes for my husband, and then I thought I'll just stick them on my body
Surprise him with this flirty note under his plate during dinner. You'll get a close-up view of his reaction and enjoy a fun and passionate evening together.
52. Being with you is the best part of my day
Express your love and appreciation with this simple and honest note. Let him know that the time you spend together is the best part of your day.
53. I'm a huge fan of the shirt you're wearing
Compliment him on his style and make him feel good about himself. This playful note will not only boost his confidence but also create a flirty atmosphere.
54. You are my happy place, so I always come along with you
Let him know that being with him brings joy and happiness into your life. Stick this note in his office bag for a delightful surprise during the day.
55. Thank you for loving me without makeup and with my love handles
Appreciate his unconditional love and acceptance with this heartfelt note. Make him feel special and loved by acknowledging his love for you as you are.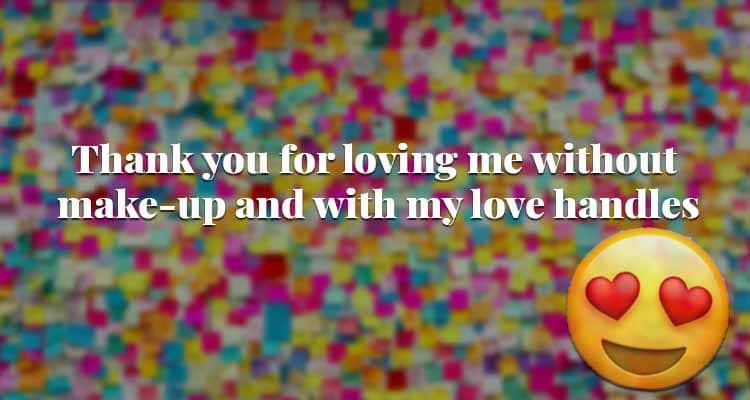 56. I have been alone with you inside my mind…
Channel your inner Lionel Richie with this flirty note. Let him know that he's always on your mind, even when you're physically apart.
57. Check your watch. It's kiss me 'o' clock!
Create anticipation and excitement with this playful note. He'll be counting down the minutes until he can come home and shower you with kisses.
58. Tell me before you go for a shower so I can join you
Invite him to join you in the shower with this steamy note. It's sure to set the mood for an intimate and passionate encounter.
59. Hey, hottie. Ready to have some fun tonight?
Turn up the heat with this flirty note. Let him know you're in the mood for some fun and excitement, creating anticipation for a thrilling night ahead.
60. You keep me coming for ya…
Quoting the famous song "Senorita," this note will add a touch of romance and passion to your relationship. Send it to him, and he'll be reminded of your magnetic connection.
Encouraging Sticky Notes to Lift His Spirits
During difficult times, your boyfriend needs your support and encouragement more than ever. These notes will remind him that you're his biggest cheerleader and that you'll always stand by his side. Here are some examples:
61. Go forth and conquer (just like you've conquered my heart)
Motivate and delight him with this note. Stick it on his coffee mug, and he'll start his day feeling confident and loved.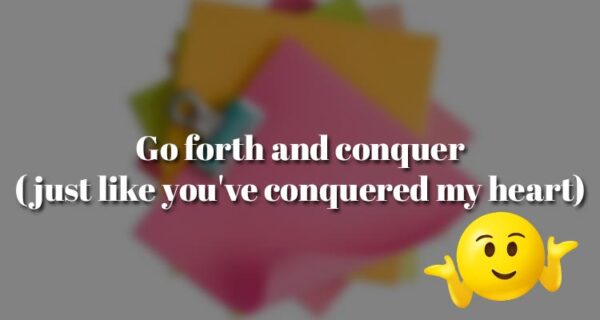 62. You're my number one
Remind him that he holds a special place in your heart with this simple and affirming note. Everyone loves knowing they're someone's top priority.
63. Relax, you got this!
In the midst of a hectic day, this note will provide a much-needed reassurance. Let him know that you believe in him and his abilities.
64. Don't know what I'd do without you…
Express your gratitude for his presence in your life with this heartfelt note. Let him know how important he is to you, even in the midst of challenging times.
65. The person reading this will achieve his dreams one day
Motivate him to pursue his dreams with this short but impactful note. Leave it on his desk as a reminder of your unwavering belief in his abilities.
66. We will power through this. Don't worry!
If you're currently going through a rough patch, this note will provide the reassurance he needs. Let him know that you're in it together and that you won't give up.
67. There's nothing you can't do, love
Boost his confidence and remind him of his capabilities with this affirming note. Place it where he'll find it before he heads out for work, and watch his spirits soar.
68. Everything you desire will come to you when the time is right
This short but powerful note will remind him to be patient and trust in the timing of the universe. It's a beautiful way to encourage him on his journey.
69. I believe in you!
Words of affirmation are priceless. Let him know that you believe in his capabilities and that he has your unwavering support. It'll make all the difference in his day.
70. Life is difficult, but you are strong enough to fight your battles. I'm here to fight them with you
Remind him that he's not alone in his struggles with this heartfelt note. Let him know that you'll always be by his side, supporting and fighting alongside him.
Let Your Quirkiness Shine
If you want to express your love in a unique and quirky way, these notes are for you. Embrace your individuality and have some fun with these adorable and creative messages:
71. Do you know the full form of love? L – Love you, O – Only you, V – Very much, E – Every second of every day
Get a little playful with this note by creating a unique full form of love. It's a cute and quirky way to remind him of your affection.
72. You're my honeybunch, sugar plum. Pumpy-umpy-umpkin. You're my sweetie pie
Channel your inner child with this playful note inspired by a popular song. It's a sweet and lighthearted way to express your love.
73. My love for you > All the stars in the sky
Go big and bold with this cosmic declaration of love. Let him know that your love for him is infinite and surpasses the vastness of the stars.
74. I want to be your teddy bear forever
Embrace your inner child and let him know that you want to be his cuddly and loving teddy bear forever. It's a cute and quirky way to express your desire for a lifelong connection.
75. If I could rearrange the alphabet, I'd put U and I together
Add a touch of humor to your love note with this playful line. It's a fun way to let him know that he's your perfect match.
Express Your Love with Unique Notes
These cute lunch notes are just the beginning. Use them as inspiration to create your own heartfelt messages that capture the essence of your relationship. Whether you choose a flirty, encouraging, or quirky approach, the most important thing is to let your love shine through. Surprise him with these adorable notes and watch as his heart melts with every word. Remember, love is in the details, and a simple note can make all the difference in keeping your relationship alive and thriving.
This article was updated in February 2023.