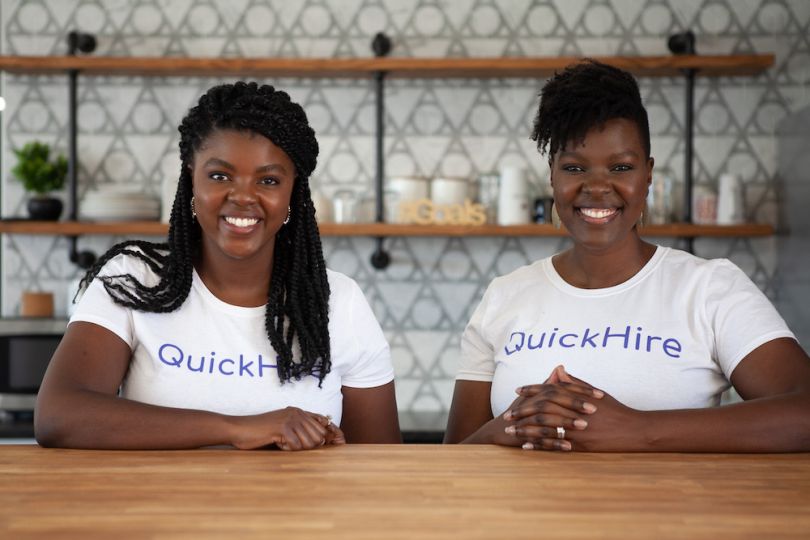 There's no shortage of online job listing sites for software engineers and sales professionals. However, if you're a skilled factory worker or involved in the service industry, finding the right job can be a challenge. Many blue-collar and skilled trade jobs are not posted on online job boards. Instead, workers often have to physically go to businesses and fill out paper applications – a far cry from the convenience of finding a desk job online.
But now, QuickHire is here to revolutionize the way blue-collar workers find job opportunities. Developed by sisters Angela Muhwezi-Hall and Deborah Muhwezi-Gladney, QuickHire is an innovative app aiming to bridge the gap between skilled workers and available jobs.
Angela and Deborah's own parents, who immigrated from Uganda in 1980, relied on blue-collar jobs to support their family. Recognizing the limitations of the current job search process, the sisters envisioned QuickHire as a tech-forward solution for connecting people in these industries with the opportunities they seek.
With QuickHire, looking for blue-collar work is as simple as using a dating app. After downloading and creating a profile, users are prompted to answer onboarding questions that help employers understand their skills and preferences. Adding a photo or short video adds a personal touch. Based on location and responses, QuickHire recommends suitable job openings one by one. Just like Tinder, users can swipe left to dismiss or swipe right to apply.
The COVID-19 pandemic has hit blue-collar workers hard, with mass layoffs and furloughs impacting millions. However, QuickHire aims to uncover hidden opportunities for these workers. By recommending unexpected job options, such as a restaurant server transitioning to food delivery or a factory worker finding a new job in logistics, QuickHire proves that there are still avenues for employment.
"We still need these talented workers in the workforce, even in times of crisis," emphasized Deborah Muhwezi-Gladney, co-founder of QuickHire.
But QuickHire isn't just for job seekers; it caters to employers too. Hiring can be a costly and time-consuming process, particularly for businesses without HR departments or dedicated hiring teams.
"Our platform helps employers access a pool of applicants and assess their suitability," explained Angela Muhwezi-Hall. "Character often matters more than a resume in these industries."
QuickHire provides employers with a qualitative understanding of job applicants, enabling them to find the best candidates. By partnering with companies and sourcing job listings from various channels, QuickHire ensures a wide range of opportunities for its users. As the app gains momentum, the company aims to establish more partnerships and expand its user base, ultimately improving the job search experience for both employers and jobseekers.
In an era where technology has transformed countless aspects of our lives, QuickHire is heralding a new era for blue-collar workers. With its intuitive app, it brings together skilled workers and job opportunities seamlessly, empowering individuals and businesses in the process.
For more information, visit Six Minute Dates.