Building and nurturing a strong relationship requires effort and intentionality. One effective way to achieve this is by incorporating timeless wisdom from the Bible. The Bible offers guidance and principles that can be applied to all areas of life, including romantic relationships.
Discovering Relationship-Building Verses
If you want to deepen your connection with your girlfriend, enhance communication, or navigate conflicts, numerous Bible verses can help you on this journey. These verses encompass themes of love, forgiveness, honesty, and commitment, forming a strong foundation that withstands the test of time.
Embracing Biblical Wisdom
Rather than relying on mere words or a direct translation of these verses, it is essential to internalize their essence and apply them in unique ways. For instance, 1 Corinthians 13:4 reminds us that love is patient and kind, emphasizing the importance of valuing and cherishing one another.
Engaging with Scripture
As a couple, you can explore verses such as Ephesians 4:2, which encourages humility and patience in relationships. These verses can serve as sources of inspiration, guiding your daily interactions and fostering a healthy and thriving partnership.
Biblical Insights for Relationship Growth
Proverbs 17:1 illustrates the significance of friendship and support during challenging times. By cultivating a strong bond, you create a safe space for vulnerability and growth. In Ecclesiastes 4:9-10, the value of partnership is emphasized, highlighting the power of mutual support.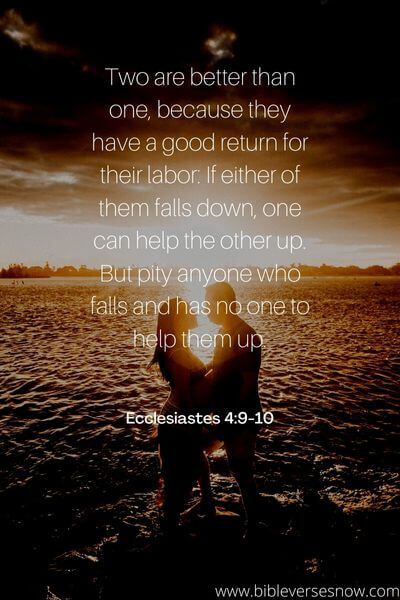 Living with Love and Faithfulness
Proverbs 3:3 encourages us to let love and faithfulness guide our actions, reminding us to value and cherish one another. By cultivating these qualities, we create a nurturing environment where trust can flourish.
Strengthening the Bond
As you journey through your relationship, it is important to maintain a spirit of sincerity and love, as mentioned in Romans 12:9. By hating what is evil and holding onto what is good, you create a strong foundation for your partnership.
Nurturing a Healthy Connection
Each day offers an opportunity to demonstrate love, as stated in 1 Corinthians 16:14. By infusing love into all aspects of your lives, you create a harmonious and fulfilling relationship.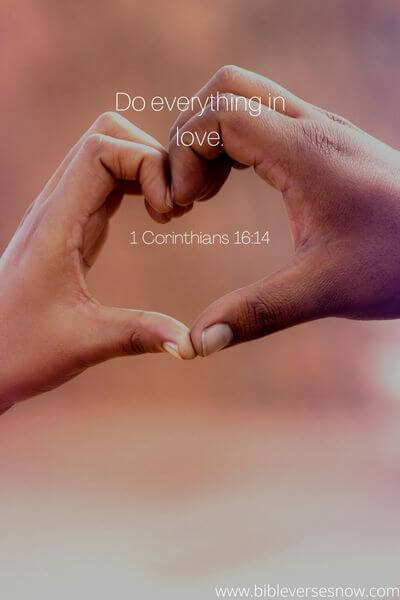 Strengthening Bonds in Times of Adversity
Life presents challenges, but the Bible provides verses that offer solace and guidance. Colossians 3:15 encourages us to let the peace of Christ rule in our hearts, fostering unity amidst difficulties.
Love as the Unifying Force
Colossians 3:14 emphasizes the power of love in bringing together different virtues, establishing unity and harmony. By embracing this message, you can navigate challenges as a united front.
Finding Comfort in Difficult Times
Psalm 34:18 reminds us that God is close to the brokenhearted, offering solace and strength to those facing adversity. As a couple, you can find comfort in knowing that you are not alone in your struggles.
Fostering the Fruit of the Spirit
Galatians 5:22-23 highlights the qualities that stem from a life guided by the Spirit – love, joy, peace, forbearance, kindness, goodness, faithfulness, gentleness, and self-control. By embodying these attributes, you create an environment conducive to growth and love.
Building a Lasting Partnership
The Bible emphasizes the strength that comes from unity. Ecclesiastes 4:12 states that a cord of three strands is not quickly broken, highlighting the importance of God's presence within your relationship.
Love as God's Commandment
In John 15:12, Jesus commands us to love one another as He has loved us. By following this command, we demonstrate true love, which transcends words and finds expression through action and truth.
Love as a Reflection of God
1 John 4:7 reminds us that love comes from God and that those who love are born of God. By extending love to one another, we experience the transformative power of God's love within ourselves and our relationship.
Strengthening the Bond of Love
Romans 12:10 encourages us to be devoted to one another in love, placing the needs and honor of our partner above our own. This selfless love builds a lasting connection.
Embracing the Truth
Love does not delight in evil but rejoices with the truth, as stated in 1 Corinthians 13:6. By aligning our actions with love and truth, we create a relationship rooted in integrity.
Nurturing Love Through Actions
Words alone are not enough – actions speak louder. 1 John 3:18 challenges us to love not only with our words but through our actions and in truth. By actively showing love, we strengthen the bond with our partner.
Love as God's Gift
Love is a gift from God, as highlighted in 1 John 4:7. As we love one another, we demonstrate our connection to Him and deepen our understanding of His love.
Love as the Ultimate Fulfillment
Romans 13:10 teaches us that love fulfills God's law. By making love the guiding principle of our relationship, we honor God's intentions for love and experience fulfillment in our connection.
Embracing Humility and Valuing Others
Philippians 2:3 encourages us to set aside selfish ambitions and instead value others above ourselves. By practicing humility, we create an atmosphere conducive to love and understanding.
Encouraging and Uplifting Each Other
1 Thessalonians 5:11 prompts us to encourage and build each other up. By fostering a culture of support and affirmation, we strengthen our bond and inspire personal growth.
Cultivating Inner Strength through Faith
Philippians 4:13 reminds us that, through Christ, we can overcome any challenge. By cultivating a deep faith, we access the inner strength needed to navigate the ups and downs of life.
Conquering Fear with Faith
2 Timothy 1:7 teaches us that fear is not from God, but rather, He empowers us with love, power, and soundness of mind. By trusting in God, we can overcome our fears and approach life with confidence.
Finding Strength in God's Presence
Deuteronomy 31:6 assures us that God is always with us, providing strength and courage. By relying on His constant presence, we can face any obstacle with confidence.
Seeking Refuge in God's Protection
Psalm 18:2 paints a vivid picture of God as our rock, fortress, deliverer, and salvation. By seeking refuge in Him, we find security and strength in the face of challenges.
Trusting God's Guidance
Proverbs 3:5-6 urges us to trust in God, recognizing that His understanding surpasses our own. By submitting to His guidance, we can navigate life's complexities with clarity and wisdom.
Finding Peace in Christ
John 16:33 reminds us that we will face challenges, but through Christ, we can find peace. By holding onto His promises, we can overcome difficulties and find solace in His presence.
Cultivating a Spirit of Gratitude and Trust
Philippians 4:6-7 encourages us to present our worries to God through prayer, thankful for His provision. By entrusting our concerns to Him, we experience His peace that surpasses all understanding.
Drawing Close to God in Times of Need
Psalm 34:18 reassures us that God is near to the brokenhearted and saves those who are crushed in spirit. By turning to Him in our moments of weakness, we find comfort and restoration.
Finding Strength in God's Light
Psalm 27:1 reminds us that the Lord is our light and stronghold, dispelling fear and providing refuge. By placing our trust in Him, we overcome our anxieties and navigate life confidently.
Casting Our Anxieties on God
1 Peter 5:7 encourages us to cast our anxieties on God, knowing that He cares for us. By surrendering our worries to Him, we experience His loving care and find peace.
Perfect Love Drives Out Fear
1 John 4:18-19 reminds us that perfect love casts out fear. When we embrace God's love fully, fear loses its power. By trusting in His love, we cultivate a strong and resilient relationship.
Love as the Antidote to Conflict
Proverbs 10:12 teaches us that love covers over wrongs and conflicts. By choosing love over hatred, we nurture a relationship built on forgiveness and understanding.
Discovering the Strength of Partnership
Ecclesiastes 4:9 emphasizes the reward that comes from working together as a team. By leveraging each other's strengths and supporting one another, we build a solid foundation for growth.
Fostering Encouragement and Support
Hebrews 10:24-25 urges us to spur one another on toward love and good deeds. By actively encouraging and meeting together, we provide the support needed to navigate life's challenges.
Embracing the Virtuous Woman
Proverbs 31:10-11 extols the value of a virtuous partner, emphasizing trust and confidence in one another. By recognizing and honoring each other's worth, we create a relationship that flourishes.
Embracing the Love of God
1 John 4:16 affirms that God is love, and by remaining in love, we remain in Him. By allowing God's love to flow through us, we foster a relationship grounded in His divine love.
The Power of Forgiveness
Colossians 3:13 encourages us to bear with one another and forgive, just as God has forgiven us. By extending forgiveness to one another, we emulate God's grace and create space for healing.
Basking in the Love of God
John 15:9 reminds us of the depth of God's love for us. By embracing His love, we create a safe haven in our relationship where love thrives.
The Strength of Unyielding Love
Song of Solomon 8:6-7 paints a vivid picture of love's strength. Love is compared to a seal on the heart, unyielding and fierce. By embracing this powerful love, our relationship becomes unbreakable.
Love that Transcends All
Song of Solomon 8:7 affirms that love cannot be quenched by external forces. By nurturing our love, we create a love that surpasses challenges and endures.
Ruth 1:16 illustrates the beauty of commitment and loyalty. By journeying together and embracing each other's beliefs, we strengthen our bond.
Expressing Gratitude for Each Other
Philippians 1:3 reminds us to be grateful for our partner. By expressing our gratitude, we foster an atmosphere of appreciation and love.
Sealing Love with Passionate Commitment
Song of Solomon 8:6 encourages us to seal our love over our hearts, protecting and cherishing it. By remaining faithful and passionate, love thrives.
Honoring the Sacred Bond
Mark 10:9 reminds us that when God unites two individuals, no one should separate them. By honoring the sacred bond, we build a lasting and resilient relationship.
Unquenchable Love
Song of Solomon 8:7 reassures us that love cannot be extinguished. By nurturing our love, we create a bond that endures the trials of life.
Growing Spiritually Together
Strengthening your relationship with God alongside your girlfriend requires intentional effort. Here are some practical steps you can take:
Attend Church Services Together: Make attending church services a regular part of your routine. This allows you and your partner to worship together and grow your faith side by side.

Pray Together: Regularly set aside time for prayer as a couple, either alone or with other couples. This deepens your connection with God and with each other.

Read Scripture Together: Choose a Bible verse or passage to read together, discussing its meaning and how it applies to your lives. This practice promotes spiritual growth and an understanding of God's Word.

Serve Together: Look for opportunities to volunteer together, whether it's at a local shelter or on a church mission trip. Serving others allows you to live out your faith and strengthen your bond with God and each other.

Discuss Your Faith: Take time to have open and honest conversations about your spiritual experiences and beliefs. This not only deepens your relationship with God but also fosters intimacy and understanding between you and your partner.
Serving Others and Strengthening the Bond
Jesus taught us to treat others as we would like to be treated. By serving and caring for others, we emulate His teachings and draw closer to God. Serving others holds the key to growing our relationship with God and building a solid foundation for our partnership.
In Conclusion
Using Bible verses to strengthen your relationship with your girlfriend can be a powerful and transformative journey. By incorporating these verses into your daily lives and conversations, you cultivate love, trust, and resilience. Approach this process with honesty, intentionality, and a willingness to apply these teachings in unique and meaningful ways. As you journey together, may these verses guide you towards a deeper and more fulfilling relationship with each other and with God.
To find out more about building strong relationships, you may visit Six Minute Dates.